A UCLA study has concluded searching the internet increases brain function. Don't you feel smarter now?
HacknMod is a site devoted to building or altering your equipment. Who doesn't want a giant pedal powered tank?
Speaking of mods here's how to build a Wifi antenna using a vegetable strainer.
This article about the IRS using a hack-able computer system makes me feel oh-so-comfortable with the information they have.
Is it about zombies or not? A student was arrested on terrorism charges after his grandparents found a story he'd written. I have often thought Steven King would never make it though school these days.
Even so, police say the nature of the story makes it a felony. "Anytime you make any threat or possess matter involving a school or function it's a felony in the state of Kentucky," said Winchester Police detective Steven Caudill.
Give me a break! These people are afraid of zombies? Don't expect any classic horror writers to come out of Kentucky in the future. Do you think the number of horror films involving proms will decrease after this? If they prosecute this kid for writing a zombie story, the terrorists have truly won.
The tune "Stayin Alive" has the ideal beat for giving CPR. Can you imagine waking up to someone pounding your chest while singing disco music? Great, now that song is stuck in my head.
Besides bringing you back to life, music has other amazing powers.
This site gives you the ability to generate you own soft drink can. Now I'm just not sure why I would want to. Actually, it is a pretty well designed site.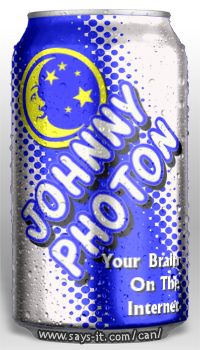 I've often thought some of the coolest things we will have in the future aren't really predictable because they will be possible due to breakthroughs in material technology like this metal foam
Here's a collection of award winning microscope photos.
Check out this nice collection of photos of frozen waterfalls.
Here is a site devoted to pictures of upside down dogs.
If that wasn't silly enough for you, this lady has taught her cat to eat with a fork.

And finally, I really like this picture but frogs may not be cute enough for my ending picture so try this one.