Well, spring was here. It's supposed to snow tonight. I have some fresh pixels for you! Here is a 3D picture of some Daffodils. If you haven't seen my tutorial on how you can see these pictures in 3D go here.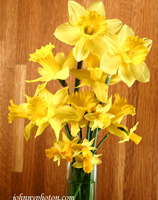 To see the larger 3D version click here.
To comment on this post, click on the word 'Comments' in the blue box below.