There are a number of ways to shoot a pair of pictures which can be viewed in 3D. The best way is to have a 3D camera or a special lens that shoots both images simultaneously. I have a special lens but it's cheap. I don't have the ability to control the focus and the plastic optics don't yield a very clear picture. By the time you tweak them in a graphics program and size them for the internet they can look alright.
Another way to do it is to shoot a picture and then slide the camera to the side and shoot another picture. The problem is nothing can change over the time between shots, so this is limited to objects that don't move. Also if you are using a flash, it has to stay in the same spot so it can't be attached to the camera.
I have never used the technique outside because even the slightest breeze can mess up the shot. The other day was an extremely calm day. We have a striking yellow lily blooming in the yard so I decided to give it a shot.
Here is my set up.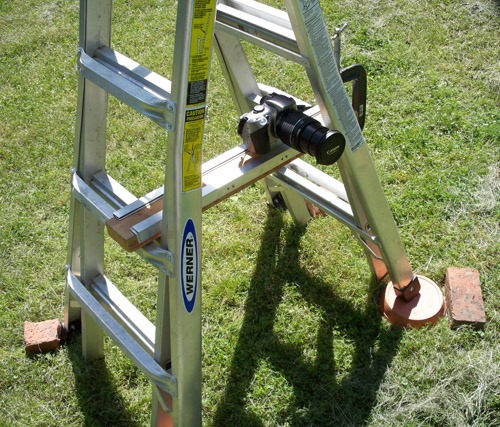 Note the high tech tilt control. A pair of bricks for more tilt and a pair of plant pot bottoms for less tilt. I have built a sliding track with a camera mount on it. That is a clamp slightly out of view to hold the track to the ladder. It's a cheap set up but not very portable.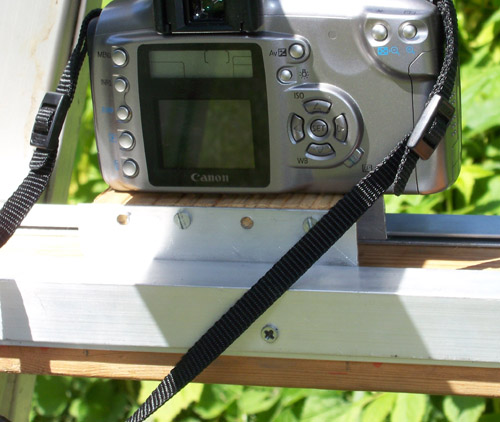 This track is much longer than you really need. Typically you would only move the camera about the distance between your eyes but its fun to experiment with different distances. When you move it farther it can make it harder to view but it does emphasize the depth.
This camera has a manual setting so I can make sure the exposure is exactly the same in the two pictures. Some graphics programs can make up for a small difference in exposures.
With no breeze it was ideal for shooting but really hot for the photographer. After you get your two shots, you can format them in a graphics program side by side. I usually format them for cross viewing. But I also have different sets of 3D glasses and for viewing that way you swap the two images.
You can learn to cross view at my tutorial here. I have more 3D pictures in my gallery. And finally, you were probably expecting my lily picture but I also shot this.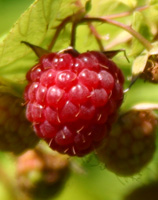 To see it in 3D click here.